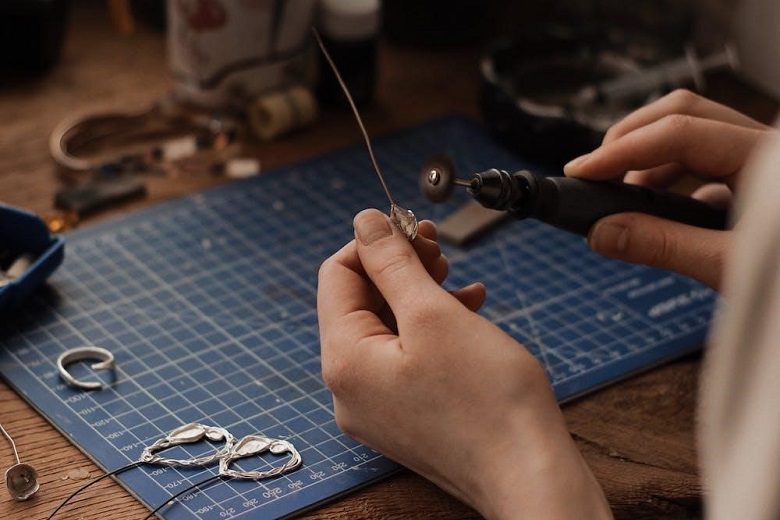 Every piece of jewellery is one-of-a-kind, and considering that the world of retail is going through a massive transformation, the jewellery industry seems to have a glittering future ahead. However, if we talk about the present, with the emergence of state-of-the-art jewellery-making processes, the demand for custom-made jewellery is at an all-time high. Although new market trends come and go, hand-stamped jewellery is here to stay. But what exactly is hand-stamped jewellery? Let's find out.
So, What Exactly is Hand-Stamped jewellery?
Hand-stamping is an ancient jewellery-making technique. Generally, a process known as "marking" is used to create patterns by hitting a hammer on the surface of jewellery without removing any of the metal mass. If you're a jewellery enthusiast, you have most likely seen various personalised jewellery; some of these items are not even close to hand-stamping. There's a lot more to the definition of hand-stamping, and this guide will teach you everything—starting with the basics.
The following guide will not only help you discover the history and fundamentals of hand-stamped jewellery but will also show you everything you need to know before buying one for yourself, your family, or a friend. First, though, let's look at the fascinating history of hand-stamped jewellery.
History of Hand-Stamped jewellery
The art of hand-stamping jewellery may be traced all the way back to ancient times when cavemen would carve drawings into rocks or etch designs into earthenware or pottery. Throughout history, hand-stamping has played a significant role in reproducing limited editions of original artworks of contemporary artists—to name a few; Picasso, Dali, Miro, and Chagall.
The matrices used to prepare the limited editions were carved either in relief (for example, wood or linoleum) or intaglio (directly on a metal plate), allowing the ink to be spread on the parts in relief or filling in the depressions. Most intaglios were made by hand with the assistance of specialised tools, while some were made through etching, in which an acid solution was applied to the metal.
Apart from preparing limited editions of original artwork, hand-stamping was also used to make personalised jewellery. Although jewellery-making is quite exhilarating, anyone who has ever attempted to make customised jewellery with a hand engraver's tools will know that the early hand-stampers needed to have the inventiveness and balance of an artist, the steady hand of a surgeon, and the patience of a saint to get the job done, especially while working with curved materials.
Metal Stamping – Hand-Stamping vs Engraving
Metal stamping is a method used to create patterns on the jewellery surface without removing any metal mass. This is accomplished using a marking technique known as stamping, which guarantees that the metal's weight, quality, and purity will not change over time. Both engraving and hand-stamping are ideal methods for getting the job done. Engraving is more traditional, while hand-stamping offers a more natural and artisanal design that remains clear for decades to come.
Metal Stamping Jewellery for Beginners
There are a variety of approaches to customising jewellery, ranging from operations managed by machines and other forms of technology to procedures carried out solely by hand and the human eye. To create clear and precise imprints on the surface of your jewellery items using standard metal stamping technique, you will need a certain collection of equipment, including:
Blanks
Hammer
Stamp Set
Stamping Tape
Polishing Cloth
Rubbing Alcohol
Steel Bench Block
Permanent Marker
Measurement Ruler
First things first, position your steel bench block on a solid, levelled platform. Attach the blank to the bench block using tape, and mark the placement of each stamp on the block using a ruler and a permanent marker to ensure that they are appropriately spaced apart. Place the stamp so that the top edge of the tape above the specified spot is aligned with the bottom edge of the stamp. Keep moving the stamp in the direction of the tape until the edge of the design catches on the tape.
Keep the stamp standing on its base as you use the flat side of the hammer to hit the top once. Don't hit it more than once, or you will get a shadow print, making your pattern seem cluttered. In addition, striking the stamp too hard might cause the metal to break; thus, follow this step carefully. Finally, remove the tape and spread the rubbing alcohol solution using a polishing cloth.
Metal Stamping Techniques
In addition to the traditional metal stamping method, several other methods can be used to produce one-of-a-kind stamped patterns. Oxidising the stamp's tip is one way to make it stand out against the metal finish of the jewellery. In addition, you can make unique finishes for your stamped jewellery by developing a patina (a thin coating of oxidation on the surface). Finally, you may opt for texture stamping rather than stamping patterns that are well defined on the metal surface.
What to Expect From Hand-Stamped Jewellery
Since hand-stamping is an old-school way of producing jewellery, the hand, eye, and hammer hit are essential components of the procedure. The resulting piece of jewellery seems more natural and artisanal than one engraved by a machine. If you use letter stamps to customise a piece of jewellery, you might notice a lovely little quirk if one of the letters in the set is slightly asymmetrical—this is the nature of hand-stamping, which is why every single piece of hand-stamped jewellery is one-of-a-kind.
DIY vs Professional Hand-Stamped jewellery
Even though it may seem as easy as hitting the hamper on a metal surface, there is a great deal of work involved behind the scenes of personalised hand-stamped jewellery that meets the eye. Gone are the days when buying customised jewellery for a party or casual wear was a huge investment; you can easily make a set for yourself. However, when it comes to working with metal, hammers, and delicate jewellery pieces, the DIY approach may not be a great idea.
Frequently Asked Questions
Whether you're looking for customised hand-stamped jewellery pieces to fine-tune your jewellery collection or feeding your brain with general information on hand-stamped jewellery, we hope this article helped. However, we're not done just yet. As a bonus, we've taken the time to answer some questions about hand-stamped jewellery and its similar types.
How is Hand Stamped jewellery Made?
Hand-stamping is an ancient jewellery-making technique. Generally, a process marking technique is used to create patterns merely by hitting a hammer on the surface of jewellery without removing any metal mass, guaranteeing that the metal's weight, quality, and purity will not change over time.
How Can You Tell a Jewellery Piece Has Been Hand-Stamped?
A piece of jewellery that has been hand-stamped may be easily distinguished from engraved jewellery since they're one-of-a-kind. An engraved piece of jewellery will have a flawless uniform appearance, while the charm and uniqueness of hand-stamped jewellery may be found in the faults that are part of the process. Each has its distinct personality, which makes them truly authentic.
What Are the Available Design Options for Hand-Stamped Jewellery?
Hand-stamping allows you to create one-of-a-kind jewellery that can be cherished for a lifetime. First, you must remember that hand stamping may be done on any piece of jewellery, including bangles, charm bracelets, earrings, pendants, rings, and necklaces. You may choose a beloved passage of scripture, the name of a special person in your life, a well-known quote, or an important date.
Are Hand-Stamping and Engraving the Same?
The short answer is no. The engraving method involves using a laser machine to carve a pattern or letters onto a piece of jewellery by removing metal from the surface and then etching it. Hand-stamping, on the other hand, is a different approach to personalising jewellery since it entails impressing a character into the metal without actually removing any metal from the piece of jewellery.
The Final Cut
A piece of customised hand-stamped jewellery is a wonderful thing to have since it is a constant reminder of various occasions and moments and carries with it a large amount of emotional worth—the kind of value that cannot be measured by money. So what are you waiting for? Get a piece of customised hand-stamped jewellery for yourself, your family, or your friend today!