Lifestyle
5 Essential Moving Tools for a Smooth Home Relocation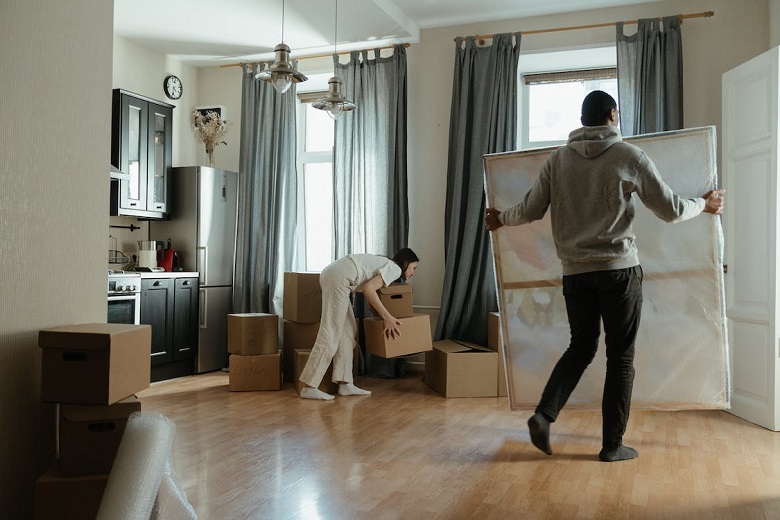 Happiness doesn't just have one address. Make moving home a smooth process with proper furniture-moving tools and essential packing tools that make the hard work a breeze. Below you'll find a list of all the moving tools you'll need for a seamless moving experience, plus a few handy tips to keep you calm and collected throughout the move.
Making your move as smooth is one thing. Making a relocation exciting and even enjoyable is something else entirely. With a little bit of guidance from moving professionals and a touch of research on how to pack for moving, you can make moving day a fun and flawless occasion. Little things like loading the heaviest item first, packing an overnight bag or decluttering as you go are all pro packing tips to help make it a smooth move.
When you're moving house, having the right equipment for moving furniture can streamline the process and potentially save you a trip to the physio, so take heed of the advice below.
What Moving Tools Do I Need?
Whether you're already in the thick of it or your move date is looming, you'll want to invest in a bunch of helpful moving supplies and packing tools. Eliminate some stress with the following bits and bobs to pack up one home and set up another with ease:
No move is complete without a set of cardboard moving boxes. We highly recommend hiring boxes from a removalist company, especially those that offer refunds for unused boxes and cashback on used but good-quality boxes.
Packing Tape, scissors, and markers. For sealing boxes, opening boxes and labeling boxes.
Masking tape. Keep drawers sealed tight and secure your belongings during transit.
Heavy-duty moving blankets. Give your larger objects, appliances, and pieces of furniture a little cushioning.
Plastic wrap. Whether it's a DIY move or you're hiring a professional mover, this stuff helps to secure moving blankets to protect furniture from stains, dirt, bumps, and scratches.
Ziplock bags. Keep small, random items from drawers together in a ziplock bag, which can then be stored in a moving box. The more organised you are when you pack, the more straightforward setting up the new place will be.
A dolly and/or a trolley. Must-have equipment for moving heavy furniture. More on dollys and trolleys below.
Furniture sliders. Can't figure out how to move heavy furniture by yourself? Save your floor and furniture, and prevent a sore back with furniture sliders.
Bubble wrap. Protect your fragile belongings.
A step ladder. You'd be surprised how often you need to reach things in hard-to-reach places during a move.
A toolbox. More on that tool set below.
A laser level. This is a great moving tool as it projects a beam of light onto the wall to give you highly accurate vertical and horizontal lines. It's handy for hanging pictures on the wall.
A stud finder. A straightforward tool to help you find wall studs to make hanging pictures in your new home easy-as.
Vacuum-sealed bags. Your clothes won't take up nearly as much space with vacuum-sealed bags.
The 5 Most Important Moving Tools
If nothing else, you'll require the 5 most important moving and packing tools we're mentioning below. Without them, your move will be unnecessarily frustrating, disorganised, messy, and perhaps even painful. Minimise injury and keep a level head while packing up your home with these five essential moving tools:
Dolly
A humble item often made of just a plank of wood and wheels, a dolly makes moving heavy objects like boxes and large appliances like fridges and washing machines into the moving truck really easy. Save yourself the back pain and invest in a four-wheeled dolly, two-wheeled trolley, or both!
Boxes and packing tape
Keep your items safe and organised during the entire process with the help of boxes and packing tape. Add labels to make unpacking much faster.
Furniture sliders
The ultimate furniture moving tool. Protect your furniture and your flooring with furniture sliders. Often made of felt and plastic and varying in size, they make shuffling heavy appliances and furniture around a breeze. Keep them around for future reconfiguration.
Step ladder
Having a step ladder in the home just makes sense. It's safer than using a chair and can often be folded, so it's easily stored without taking up a tonne of room. For lightbulb changes, storing items at the top of cupboards, and even cleaning, step ladders are a critical moving tool and helpful for everyday chores.
Toolbox
Inside your toolbox, you should have a box cutter, screwdrivers, an Allen key suitable for flat-pack furniture, pliers, a hammer, and a measuring tape–all essential moving tools for a smooth home relocation.
Hassle-free Home Relocation Services
Remove even more stress from your home relocation by hiring an experienced, professional removalist company to help you out. A hassle-free, smooth move is always a wise move.